Does it hurt to have resistors skewed like this on their pads as long as they're making contact? How could this fault be detected if it's out of the IPC Spec?

Is nodal access ever needed for ICT and FPT for the isolated ("unused") pin like pin 34?

How could you detect this misaligned Pin-Through-Hole connector? Notice that the mating connector would sit crooked if not detected.

Is there ever a condition when more than just one access point is needed for a network?

Suppose the secondary transformer coil of T2 has a 7W DC resistance (across (pins 4 & 5). Suppose a 2K "bleed"resistor is needed across pins 4 & 5. Is there any way to make that resistor testable?

Suppose all four TAP pins of a Microprocessor are multiplexed as shown. Would Boundary-Scan work as long as access is provided to pins 42-45? Assume this device does not use /TRST.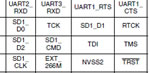 Since this JTAG-Compatible device has TDI, TDO, TCK, TMS, and /TRST, does the device have Boundary-Scan capabilities?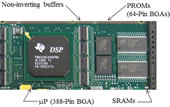 Assuming the DSP is fully B-S compatible, is there a need for nodal access for the data, address, and control lines of the μP, Buffers, PROMs, or RAMs?

For devices that are supposed to be missing (like R66), what (if anything) should be done to the PC Board to make AOI more easily verify the device is missing?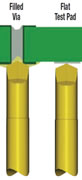 Is a Via a good choice for an access point? If it is filled with solder masking from the top, will that affect the test access for that network?